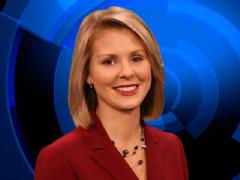 Carrie Sharp is a two-time Emmy award winning journalist and comes to Mid-Michigan via Louisville, Kentucky.
Carrie was actually born in Texas but spent most of her childhood and adult life in the "Bluegrass State." Since middle school, Carrie knew she wanted to be in the news business. A college internship got her hooked for life. For 12 years, Carrie worked at WAVE TV the NBC affiliate in Louisville. Most of that time she anchored the "Sunrise" morning show and hit the streets daily as a reporter.
That's how Carrie met her husband, Doug Sharp, a Bay City native living in Louisville at the time.
Doug competed in the 2002 Olympics in Salt Lake City winning a bronze medal in the 4-man Bobsled. Carrie first met Doug while interviewing him for a story.
The two married in 2008 and decided to head north in 2010. The Sharps added to their family in 2012 with the birth of their son.
You can catch Carrie on TV5 News at 5:30 p.m., FOX66 News at 10 p.m. and TV5 News at 11.
If you have a story idea for Carrie, feel free to send her an email at: csharp@wnem.com