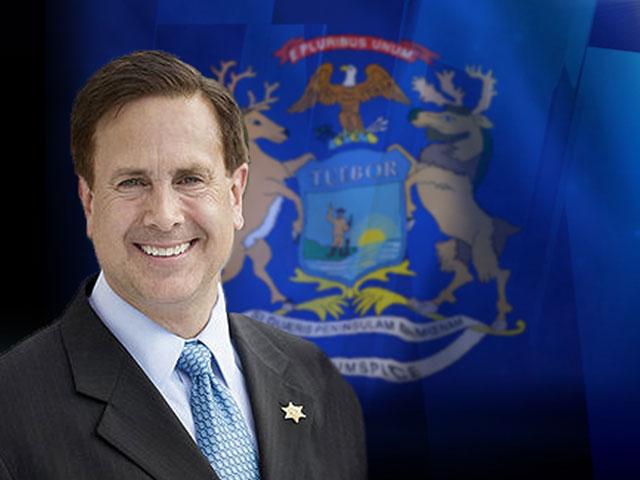 Born and raised in Michigan, Mike Bouchard has been committed to improving our state. Growing up in Oakland County, he attended Birmingham Brother Rice high school. He and Pam, his wife of twenty years, are teaching the same Michigan values they learned growing up to their three kids. From police officer to small business owner to elected office, Mike has taken on many different roles in his efforts to preserve and protect our way of life.
Mike brings all his experience, knowledge and leadership to the race for Governor. He understands it's a critical time for the state, as many families face uncertain times as our economy continues to struggle. As governor, he'll be prepared on day one to start making the tough choices that will turn our state around. He knows it took a long time to get here, so there are no easy fixes or simple solutions. But we need to take the first steps in order to get us back on the road to prosperity. Mike believes if we fix Lansing, we'll get Michigan back to work.
He'll be able to bring his knowledge from serving as a leader in the state Senate to develop lasting solutions. He was in the Senate when our leaders worked together to deliver balanced budgets and tax cuts every year he was there. As Assistant Senate Majority Leader, he worked closely with leaders like Governor Engler and then Senate Majority Leader Posthumus. Mike placed a priority on helping families. He pushed for the Michigan Sex Offender Registry requiring sex offenders to register with local law enforcement agencies and making that information publicly available for concerned parents and neighbors. He also chaired the education committee where he worked to empower parents and students to make more decisions about their future.
As Senator, Mike lead efforts that made Michigan more business and people friendly, as well as a leader on cutting taxes. He wrote the real estate transfer tax cut that has saved Michigan taxpayers billions of dollars. In fact, keeping with his record, Mike was the first candidate in the governor's race to sign the Americans for Tax Reform's (ATR) "Taxpayer Protection Pledge" – pledging to fight "any and all efforts to increase taxes." Like many Michigan families, he knows that government can't tax or spend its way to prosperity.
He's proud that when he left the Senate, Michigan was ranked one of the best states to do business and had hundreds of millions of dollars in the rainy day fund. Unfortunately, for many struggling families, those days are distant memories.
But Mike knows that better days are ahead if we make the tough choices that need to be made.
And Mike has that experience. Having run one of the largest sheriff departments in the country for nearly a decade, he learned how to separate "needs" from "wants". As Oakland County Sheriff, he manages 1,200 employees with an annual budget of more than $130 million. He's always finding innovative and creative ways to save taxpayer money while continuing to deliver on his department's core mission to protect the community.
Mike privatized the jail's food services – saving $1.6 million a year. He is also part of the Oakland County team that anticipates potential budget shortfalls by operating on a three-year rolling budget. That kind of foresight and planning has made Oakland County one of only 40 counties – out of over 3,000 – in America that has a AAA bond rating. But he's also had to make the tough choices during these difficult economic times – including cutting back his budget by up to 20 percent over the past several years while not sacrificing community safety.
Mike's also a hunter and an NRA member. Beyond that he's earned the NRA's support as well as the support of gun owners across the state in each of his campaigns.
As Mike and Pam's kids start heading off to college – including their oldest daughter who's already attending Michigan State – Mike feels strongly that if our children choose to leave the state to look for different opportunities, that's their choice. But when many of them are forced to leave the state to find work – that's simply unacceptable.
He's ready to change things in Lansing to get Michigan back to work. He has the knowledge, experience and backbone to make the tough choices from day one to turn our state around.
Mike believes that doing what's right may not always be the popular choice for the next Governor because of the entrenched special interests in Lansing. But to him, if it means he won't win re-election he's prepared for that because he knows it's time we focused on the next generation rather than the next election.