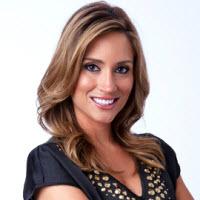 Rhiannon Ally is a dynamic personality both on screen and off. Rhiannon has been the national correspondent and fill-in host for Better since August 2009. Since that time, Better has grown to include more than 80 markets across the U.S.
In the past year, Rhiannon has tackled topics hoping to enrich the lives of women across the country. Because women don't have much time these days, she has showed Better viewers ways to get organized and easy cooking tips from legendary chefs like The Food Networks Tyler Florence and Robin Miller. Even cooking alongside iconic French chef Jacques Pepin.
She's also showed a side of celebrities you won't see anywhere else, from the "blue" carpet at the world premiere of "Avatar" in London to sitting down with stars like Jada Pinkett Smith, New Kids on the Block, Sigourney Weaver, and Kristen Chenoweth.
Prior to coming to Better , Rhiannon covered news, serving as an anchor reporter at CBS affiliate, KCTV5, in Kansas City, as well as hosting a weekly online entertainment segment for several radio stations. Rhiannon started her career as the morning anchor in Topeka, Kansas. There she interviewed notable politicians like current Head of Human Services, Kathleen Sebelius. She also got her first taste of entertainment news, interviewing stars like Jennie Garth and Skeet Ulrich.
Born and raised in Kansas City, Missouri, Rhiannon graduated with a B.A. from the University of Missouri-Kansas City. Rhiannon is a die-hard Kansas City Chiefs and Royals fan. She loves to watch sports with her husband, Mike. She is an avid animal lover and can't wait to get a dog.
Rhiannon is enjoying living on the east coast, but feels fortunate that she can travel for Better. She's also not much of a cook, but through her job at Better, she is slowly learning. She likes to challenge her husband to a pizza-off competition every week, where they create their own pies. She's also an avid movie watcher. Her favorites include classics like "Casablanca", "Rebel Without a Cause", "Funny Girl", and "The Way We Were". She also loves comedies like "The Hangover".
You can follow Rhiannon on twitter @rhiannonally or friend her on facebook.