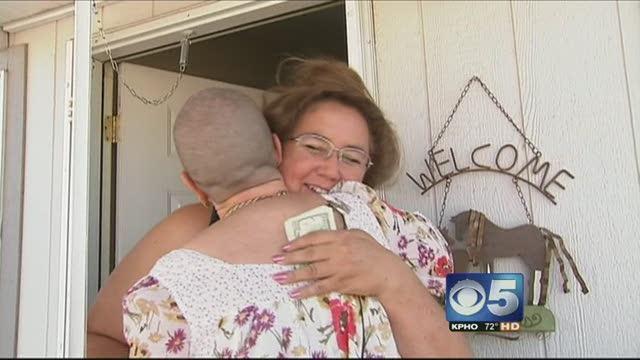 "Parents of murdered children" is not the type of group that actively seeks an increase in membership.

But a Valley mother who lost her son has taken a leadership role in the organization to help other grieving parents in desperate need of support.

Her effort has compelled another Valley woman to Pay It Forward.

R.O.T.C. was preparing Brian Miller for a career in the military, but Brian just couldn't bear the thought of taking another man's life.

"So I find it highly ironic that the gang members he ran into that night, had so little respect for life," said his mother, Beckie Miller.

Brian, just 18, was murdered by those gang members Oct. 19, 1991, while walking his girlfriend home from a date.

"It is lifelong, whether the pain softens, it's always there," Miller said. "You don't just wake up one day and say, 'Well, OK, I'm fine.'"

Miller said she and her husband, Don, tried counselors and church groups for solace. They laid crosses and planted a tree in their front yard in memory of Brian.


"For Beckie, that was her way of keeping his memory alive," Don Miller said.


But nothing quite compared to the support they received from Parents Of Murdered Children.

It is an all-volunteer organization with 1,400 people in the Arizona chapter alone.

"Unless you've been through it yourself and you've lost someone to homicide, you really don't know what it's like, and the Millers do know, unfortunately," said Greta Mang, a victim's advocate when she saw the Millers take other grieving parents under their wing.

"The stress and the grief is overwhelming to them, and they don't know where to begin, but once they call Beckie, they're on the right road," Mang said.

Lately though, the Millers have been the ones in need of support. Don lost his job, then they lost their home of 25 years, the one that sits in the shadow of that pine tree planted in Brian's memory.

So, Mang emailed CBS 5 News with a worthy recipient of the station's Pay It Forward honor and the $500 that comes with it.

A few weeks ago, the Millers planted a new tree for Brian

"Same type of tree, 'cause they grow big and strong, and live a long life," Don Miller said.

That's exactly what they wished for their son.