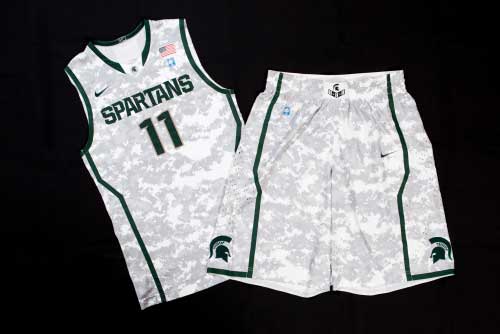 Photo Courtesy of MSU Athletics
CORONADO, Calif. (AP) - Even if it's windy on the flight deck of the USS Carl Vinson on Friday afternoon, Michigan State coach Tom Izzo says the Carrier Classic between the Spartans and No. 1 North Carolina Tar Heels will be a "memory-maker."
After all, Izzo says, no one has played a college hoops game aboard an active flat top before.
President Barack Obama is scheduled to attend, and Magic Johnson and James Worthy will be honorary captains for their alma maters. Most of the approximately 7,000 tickets will go to military personnel.
Based on the latest weather forecast, organizer Mike Whalen says the game will be played on the flight deck. Had the threat of rain been greater, the game would have been moved below to the hangar deck.
The Carl Vinson conducted Osama bin Laden's burial at sea after he was killed by Navy SEALs in a raid ordered by Obama.
Copyright 2011 The Associated Press. All rights reserved. This material may not be published, broadcast, rewritten or redistributed.