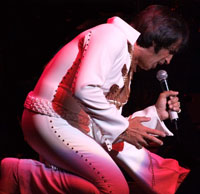 www.saginawkingfest.com
SAGINAW, Mich. (AP) - Fifteen Elvis Presley tribute artists from around the country are to be in Saginaw this weekend for a competition to see who does the best King.
Don Smith is 1 of them. The local man plans to slip into his custom-made Elvis suit and compete for the first time in Saginaw King Fest 2012
He and the other 14 contestants will be at the Temple Theatre for two rounds of competition beginning Friday, with the winner joining Jake Slater and Jay Zanier in the We Three Kings Showcase on Saturday night.
Smith was born and raised in Saginaw.
He tells The Saginaw News he's only been to two King Fests in his hometown, and last year, he decided he "could do better than these guys."
Copyright 2012 The Associated Press. All rights reserved. This material may not be published, broadcast, rewritten or redistributed.