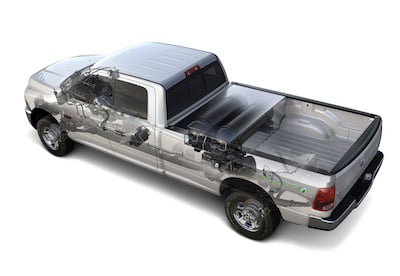 Photo Courtesy Chrysler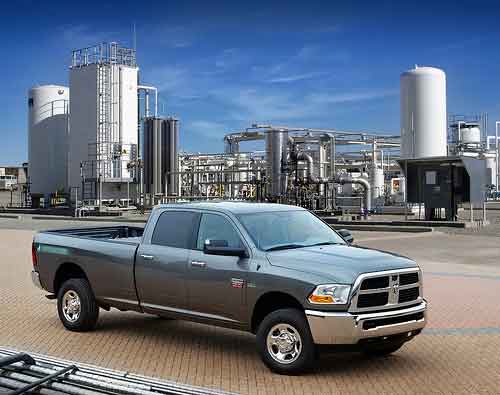 2012 Ram 2500 Heavy Duty CNG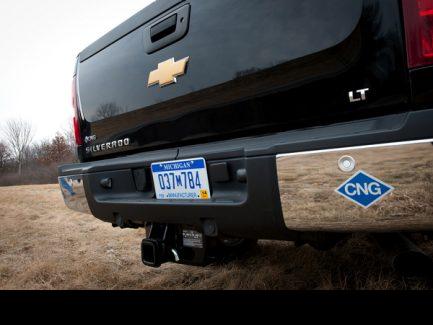 Photo Courtesy GM
DETROIT (AP) - Chrysler aims to be the first U.S. automaker to produce a factory-built pickup truck that is powered mainly by natural gas.
The privately held company said Tuesday that its new Ram 2500 Heavy Duty CNG truck will be sold to commercial customers that operate truck fleets. The company expects to deliver the first trucks in July.
The truck will have natural gas tanks and an 8-gallon fuel tank for gasoline. Chrysler said a small amount of gasoline is needed to start the truck, but after ignition it runs entirely on natural gas. If the natural gas tanks run out, the engine can switch to gasoline.
Natural gas prices have dropped steeply over the last year thanks to higher production. Chrysler said the gas-powered trucks will save money over the long term.
Meanwhile, General Motors will sell the new 2013 bi-fuel Chevrolet Silverado and GMC Sierra 2500 heavy-duty pickup trucks later this year that can run on both gasoline and compressed natural gas.
The vehicles include a compressed natural gas capable Vortec 6.0L V8 engine that transitions between CNG and gasoline fuel systems. Combined, the trucks offer a range of more than 650 miles.
The Silverado and Sierra will be available in standard and long box, with either two- or four-wheel drive.
Facts about Natural Gas Vehicles:
There are about 150,000 Natural Gas Vehicles (NGVs) on U.S. roads and more than 13 million worldwide
The U.S. ranks 14th in the world for NGVs, with less than 1 percent
The International Association of Natural Gas Vehicles estimates that there will be more than 50 million natural gas vehicles worldwide within the next 10 years, or about 9 percent of the world transportation fleets
While the United States imports more than 60 percent of the oil it uses, 98 percent of the natural gas used in the U.S. was produced in North America
NGVs can be refueled from existing natural gas lines. This makes home refueling stations that utilize such lines possible
Copyright 2012 The Associated Press. All rights reserved. This material may not be published, broadcast, rewritten or redistributed.