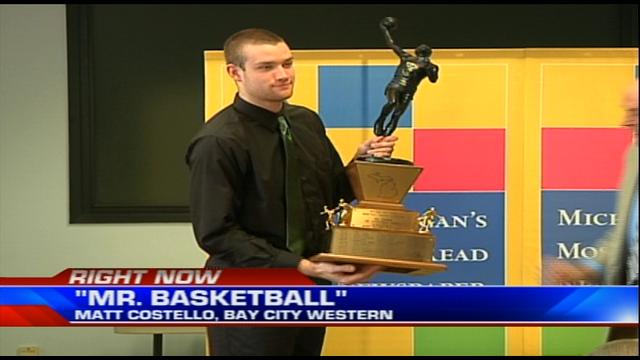 DETROIT (AP) - Matt Costello of Bay City Western has been named Michigan's Mr. Basketball.
The Basketball Coaches Association of Michigan announced the award Monday.
Lansing Sexton's Denzel Valentine, who like Costello will play for Michigan State, finished second in the voting. Cadillac's John Simons was third followed by Warren De La Salle Connar Tava and Detroit Crockett's Lloyd Neely.
Costello averaged 25.1 points a game this season. The 6-foot-10 forward also averaged nearly 18 rebounds along with four assists and four blocks per game.
He is the fourth straight Mr. Basketball award winner in the state to sign with the Spartans after they went four years without adding one. Dwaun Anderson, who won it last year, transferred to Wagner after Keith Appling and Derrick Nix earned the honor the previous two years.
Copyright 2012 The Associated Press. All rights reserved. This material may not be published, broadcast, rewritten or redistributed.