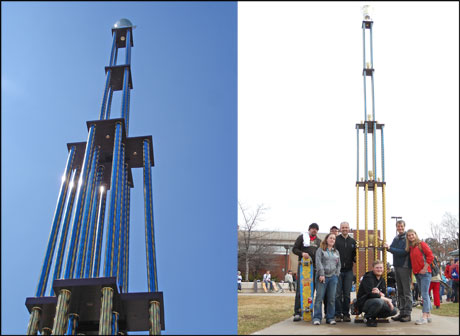 QuickTrophy Builds the World's Tallest Trophy
MARQUETTE, Mich. (AP) - Guinness World Records says it's recognizing an Upper Peninsula company as maker of the largest trophy on record.
The Mining Journal reports that Guinness has told QuickTrophy LLC of Marquette that it now holds the record.
Guinness says the trophy measures 22 feet, 6.5 inches tall and was presented to the Marquette Informal Longboarding Foundation and the NMU Skate and Snow Club on April 10, 2011.
The trophy's makers used 23 wood bases, 18 cups, 12 skater and star figurines and 48 columns.
QuickTrophy made the trophy for the world record-breaking skateboard parade at Northern Michigan University.
It's now on display at the university's Superior Dome.
Online:
http://www.quicktrophy.com/about.php
Copyright 2012 The Associated Press. All rights reserved. This material may not be published, broadcast, rewritten or redistributed.