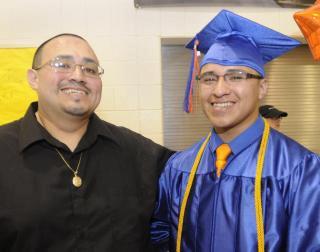 Photo courtesy of Raymond Buitron II's Facebook page.
A Saginaw student has graduated valedictorian of his class with a 3.6 grade point average while leaving behind a life of drugs and violence.
MLive.com reports (http://bit.ly/MwWA4d) that Ray Buitron Jr. told the Learn to Earn Academy 2012 graduating class of about 14 students that the academy "has been a home" to him.
The academy in Saginaw is for students who have dropped out of high school.
Buitron accidentally was shot in his legs by friend in 2010. A month later, he was expelled for selling marijuana at a former school.
He now is looking toward the future and has moved into his own apartment.
Buitron plans to study to be a physical therapy assistant and hopes to work as an athletic trainer for a sports organization or school.
Copyright 2012 by The Associated Press. All rights reserved.