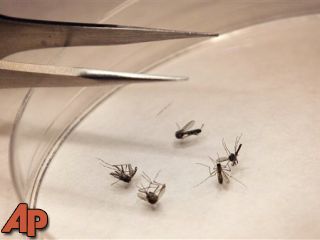 LANSING, Mich. (AP) - Michigan health officials say an 87-year-old woman from Kent County is the fifth person to die from the West Nile virus in the state this year.
State Department of Community Health spokeswoman Angela Minicuci confirmed the death Thursday.
She had no other details on the woman.
The announcement came a day after MDCH Interim Chief Medical Executive Dean Sienko told reporters that Michigan is experiencing an "epidemic of West Nile virus activity."
Experts think a mild winter, early spring and hot summer have helped stimulate mosquito breeding and the spread of the virus.
The best way to prevent West Nile disease is to avoid mosquito bites. Insect repellents, screens on doors and windows, and wearing long sleeves and pants are some of the recommended strategies. Also, empty standing water from buckets, kiddie pools and other places to discourage breeding.
Copyright 2012 The Associated Press. All rights reserved. This material may not be published, broadcast, rewritten or redistributed.