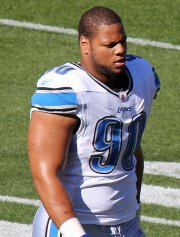 Photo courtesy of Facebook.
DEARBORN, Mich. (AP) -
Police in suburban Detroit are investigating after a motorist reported being sideswiped by defensive linemen Ndamukong Suh.
Dearborn police Sgt. Ed Fries tells the Detroit Free Press the Thursday morning collision was a "minor fender bender" with no injuries. A person who answered the telephone Friday at the department told The Associated Press that there was no comment until possibly later in the day.
The other driver Steve Vines of Livonia told Detroit-area reporters Suh sideswiped his vehicle and didn't stop following the crash. Vines says he followed Suh to the parking lot of the Lions practice facility, located in the nearby Detroit suburb of Allen Park.
Vines told Fox 2 News in Detroit that the swipe happened around 6:20 a.m. as the driver of a black Range Rover sped around him, swipping his car.
Asked Friday for comment from Suh or the Lions, the team said in a statement it was aware of the reports.
Suh has had two run-ins with the law while driving in the past year.
Copyright 2012 Associated Press and WNEM (Meredith Corporation). All rights reserved.