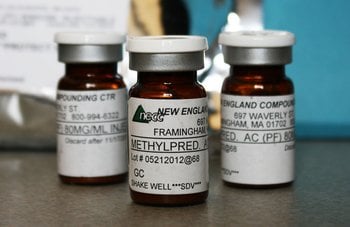 LANSING, Mich. (AP) -
Authorities are reporting 44 Michigan cases of fungal meningitis in the national outbreak, along with four non-meningitis infection cases related to the same contaminated steroids.
The U.S. Centers for Disease Control and Prevention said Wednesday's Michigan count of 48 total infections was up by 20 from one week earlier.
In total, 247 people in 15 states have been sickened in the outbreak, which has been tied to steroid shots for back pain. Most have a rare fungal form of meningitis. Two have joint infections.
Michigan's death toll remains at four, including the death of a Cass County woman whose meningitis was linked to treatments for back pain across the state border at an Indiana clinic. Her case is included in Indiana's count.
A steroid made by a Massachusetts pharmacy has been tied to a national outbreak of the rare fungal form of meningitis. It has killed 19 people nationwide.
The CDC also said test results so far show infections with three kinds of fungus. Most were a form of black mold.
------
Online:
CDC meningitis outbreak map: http://1.usa.gov/Qsw1eU
Michigan Department of Community Health meningitis link: http://1.usa.gov/Wom9rn
Copyright 2012 Associated Press. All rights reserved.