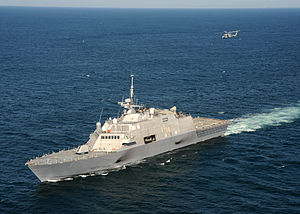 Shipbuilders in northeastern Wisconsin are celebrating the beginning of a new Navy ship -- the USS Detroit.
Federal and state officials gathered for the ceremonial `keel laying' at Marinette Marine. It's the fourth Littoral Combat Ship for Marinette Marine and is expected to be delivered to the U.S. Navy in 2015. The keel is generally the first part of the ship's hull to be constructed.
Marinette Marine CEO Chuck Goddard says the `keel laying' is the beginning of the ship's `life.' Goddard says there are more than 100 Wisconsin suppliers that will benefit from the construction, as well as at least 30 in Michigan.
WLUK-TV (http://tinyurl.com/axkc9dd) says Michigan Sen. Carl Levin, chairman of the Senate Armed Services Committee, and his wife, Barbara Levin, sponsor of the ship, were on hand for Thursday's ceremony.
USS Detroit's sister ship, USS Freedom, is pictured on the right. When it's completed, USS Detroit will be capable of traveling at speeds of up to 52 mph with a 21 day endurance. She'll also be crewed by about 100 sailors.
------
Information from: WLUK-TV, http://www.fox11online.com
Copyright 2012 WNEM (Meredith Corporation.) All rights reserved. The Associated Press contributed to this report.