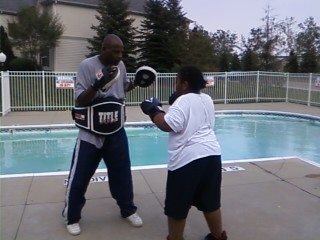 Rick Daniels, courtesy of Facebook.
FLINT, MI (AP) -
A Flint man refuses to let sickle cell anemia keep him from mentoring a group of Flint kids with his Save The Youth Boxing Program.
Rick Daniels says the blood disease has caused him to have two heart attacks and a stroke, and led to him being admitted to the hospital 60 times during the last four years.
But that hasn't stopped the military veteran and former General Motors car salesman from offering free boxing lessons at a community center in Flint. Daniels spars with kids while teaching life lessons and self-defense methods. He regained the ability to walk about a year ago but has virtually lost his vision.
Daniels tells MLive.com (http://bit.ly/R310NW) that despite his health challenges and limited resources, working out with the kids is a "blessing."
Copyright 2012 Associated Press. All rights reserved.