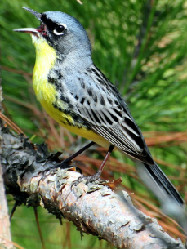 Photo courtesy of snowmanradio
ROSCOMMON, MI (AP) -
A man who built a volleyball court and shower on federal land set aside to protect the endangered Kirtland's warbler in northern Michigan has received a year's probation and been ordered to pay $34,000 in restitution and fines.
Detroit U.S. Attorney Barbara McQuade says for decades, 51-year-old William R. Colston of Chesaning and his family encroached on federal land adjoining their Roscommon County vacation home.
McQuade says Colston ignored repeated U.S. Fish and Wildlife Service orders to remove the encroachments.
Instead, he expanded an illegal recreation area in 2011 to include a sand volleyball court with sound system, horseshoe pits and shower system.
Federal Judge Charles Binder ordered Colston to pay a $1,000 fine, plus $26,000 to the Seney Natural History Association and $7,000 to the Fish and Wildlife Service.
Copyright 2012 Associated Press. All rights reserved.