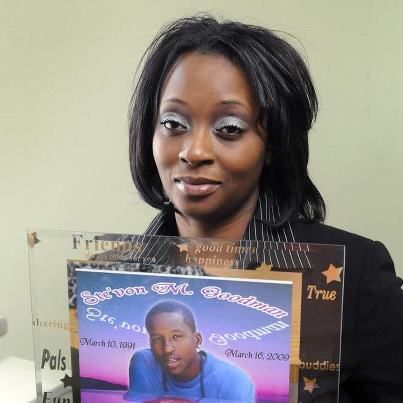 Photo courtesy of Facebook.
It's showtime for a Michigan woman whose 18-year-old son was fatally shot three years ago in what police say was a case of mistaken identity.
Tiffanny Goodman has written a play about the unsolved killing. "Speak Up! Speak Out! A Mother's Cry Against Violence" is to hold a one night-only performance Saturday at the Temple Theatre in Saginaw.
The Saginaw News says Goodman is the writer, producer, director and star of the play.
Her son, Ste'von Goodman, was shot March 12, 2009, while driving in the Saginaw area. Goodman says she hopes the play will inspire someone to bring information to police. She also wants people to reconsider "no snitch" attitudes.
Goodman says she plans to take the play to Flint in February.
------
Information from: The Saginaw News, http://www.mlive.com/saginaw
Copyright 2012 Associated Press. All rights reserved.