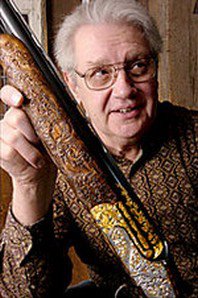 Joe Rundell -- photo courtesy of Facebook.
FLINT, MI (AP) -
When it comes to sculpting, Joe Rundell has something in common with the automotive founding fathers he immortalizes in bronze.
He learned the hard way.
After years spent engraving firearms, Rundell has tackled his life-size creations with the same do-it-yourself attitude. He's finished a statue of David Buick and has begun work on Walter P. Chrysler.
Rundell was serving as art director for Back to the Bricks in Flint two years ago when he got the idea of placing bronze statues of important automotive officials around Flint came about. The 71-year-old, self-taught Rundell tells MLive.com (http://bit.ly/U7sP8K) he now earns $15,000 per statue and has been approached by other organizations.
He has about 20 statues to sculpt over the next few years.
Copyright 2012 Associated Press. All rights reserved.