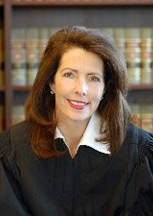 ANN ARBOR, MI (AP) -
Former Michigan Supreme Court Justice Diane Hathaway is due in federal court for an anticipated guilty plea to bank fraud.
Hathaway is accused of concealing assets while trying to persuade a bank that she needed a short sale to get rid of a Grosse Pointe Park home that carried a big mortgage. Her hearing is set for Tuesday in Ann Arbor federal court.
Hathaway was charged Jan. 18, three days before she left the Supreme Court because of the scandal.
She and her husband transferred a debt-free Florida home to a relative before the 2011 sale of their Detroit-area home. After the short sale went through, the Florida property went back in their names.
Hathaway was elected to the Supreme Court in 2008.
Copyright 2013 Associated Press. All rights reserved.