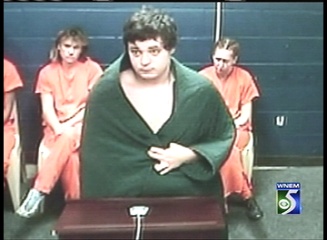 Jeramy David Wagner during his arraignment on closed-circuit TV.
FLINT, MI (AP) -
A 23-year-old Flint area man involved in a standoff last fall with police has been ruled competent to stand trial in the slaying of his 3-month-old son.
MLive.com reports Wednesday that Jeramy Wagner faces a Feb. 8 preliminary examination in Genesee County Circuit Court in Flint.
Defense attorney Mark Clement tells MLive.com that he is reviewing the case.
Wagner is charged with felony murder and first- and second-degree child abuse. His son, Andrew Wagner, was pronounced dead on arrival Oct. 15 at Hurley Medical Center. An autopsy determined the child died of a blow to the head.
Jeramy Wagner was jailed Oct. 20 after a three-hour standoff with police at his Montrose Township home.
Read WNEM.com's past coverage of this story here.
Copyright 2013 Associated Press. All rights reserved.