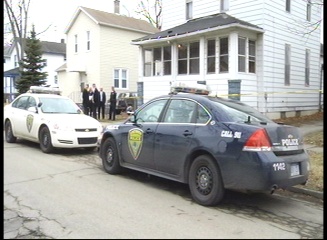 The home on Harrison Street where Cassandra Nelson's body was found.
A man authorities say killed a woman by stabbing her 54 times and dropping a TV on her head is on trial for murder and torture.
The trial of 21-year-old Lashon Hollman began this week in Saginaw County Circuit Court.
He's charged in the slaying of 27-year-old Cassandra Nelson, whose body was found Feb. 2, 2012, in a Saginaw home. MLive.com reports a state police forensic scientist testified Hollman's DNA was found on a bread knife and beer can.
Defense lawyer Matthew Frey said his opening statement there are "some unexplainable details that don't make sense." He's urged jurors to reserve judgment on DNA until they've seen all the evidence.
The trial continues Friday. Charges include first-degree murder, which carries a mandatory punishment of life in prison without parole.
Hollman was living with his mother next door to the home Nelson was renting.
Copyright 2013 Associated Press. All rights reserved.