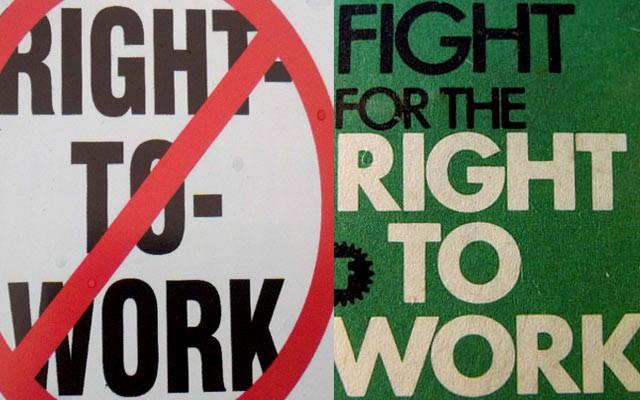 DETROIT (AP) -
Michigan workers can choose not to financially support unions that bargain on their behalf under a right-to-work law now in effect.
The measure that took effect at midnight will apply to labor contracts that are extended or renewed after Wednesday. Many unionized employees won't be affected for months or years.
Union organizers are asking people to wear red Thursday to protest Michigan becoming the 24th right-to-work state -- a once-unthinkable change in a place where organized labor has played a central role.
Dozens of union members and others are protesting against Michigan's new right-to-work law outside a Detroit building where Gov. Rick Snyder has a scheduled appearance. Toting a "Snyder (equals) Snake" sign, the 52-year-old Detroiter rallied with others Thursday morning outside the Detroit Athletic Club.
One who didn't was a man in a suit and oversized papier-mache Snyder head. He was flipping pancakes in a skillet -- an ode to the "Pancakes & Politics" event the Republican governor was attending inside.
Governor Snyder told the protesters that right-to-work is "done" and "over with" and called it "a significant milestone" that "will bring jobs to Michigan."
The governor says the new law "isn't about being anti-union," but is "about being pro-worker."
Supporters plan to celebrate the law's passage.
Republican Gov. Rick Snyder is expected to see protesters at unrelated events in Detroit. He said Wednesday the continued political fighting, lawsuits and protests over right to work are "part of democracy" and he appreciates that "change is difficult for people."
Copyright 2013 Associated Press. All rights reserved.