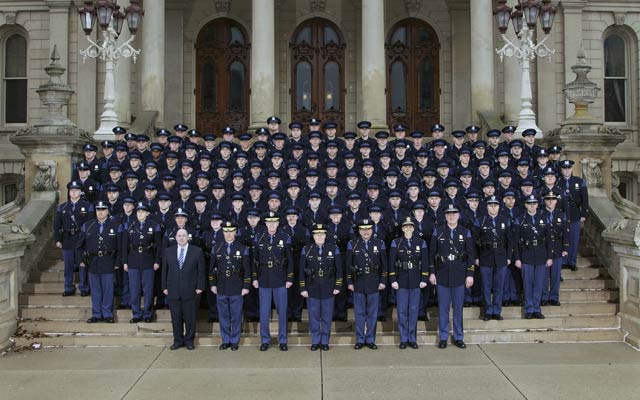 The graduating class of 2013.
LANSING, MI (WNEM/AP) -
Ninety recruits are graduating to full-fledged state police troopers Friday afternoon.
Those men and women in uniform graduating Friday in a ceremony in Lansing are in the second of two trooper schools funded this budget year by Gov. Rick Snyder's public safety plan.
As of last year, the Michigan State Police was at its lowest staffing level since the late 1960s.
Snyder was the keynote speaker during the afternoon ceremony. The new troopers were sworn in by Col. Kriste Kibbey Etue, director of the state police.
The graduates will be assigned to posts across Michigan. A total of 22 of those graduates are from the TV5 viewing area.
Of the 114 prospective troopers who reported to the training academy, 90 are gradating. Of the 90, 78 have continued their education with college studies, 16 have served in America's military and 12 have prior law enforcement experience.
Mid-Michigan is getting 23 new troopers, with four going to the Caro post, eight going to the Flint post, one going to the Lapeer post, eight going to the Tri-City post and two going to the West Branch post.
Anyone interested in learning more about becoming a trooper can do so at www.michigan.gov/mspjobs.
Copyright 2013 WNEM (Meredith Corporation). All rights reserved. The Associated Press contributed to this report.