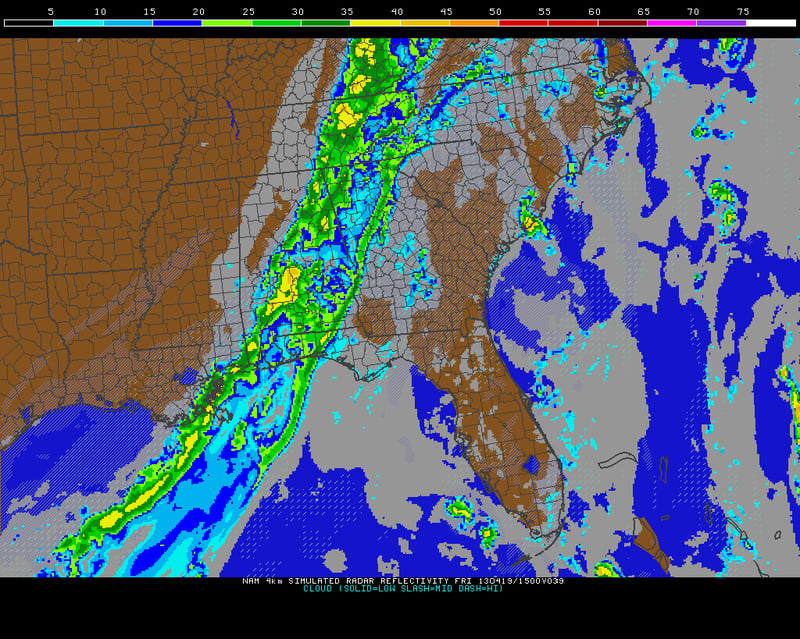 this map shows a projected radar image of a broken line and complex of showers moving in on Friday around mid-morning
Thursday: Expect a mix of sun and clouds and another beautiful day outside. Morning temperatures will warm through the 60s and into the 70s. Afternoon highs will reach 79°-81° across Upstate towns with 70s a common number for highs in the valleys and mountains of North Carolina.
Tomorrow Night: A few showers will be possible later tomorrow evening and night, especially across Western NC. Scattered showers are possible for Upstate towns tomorrow night as well, but will be less likely.

Friday - Next Rain System: It looks like we have a better handle on the timing or arrival of rain moving in Friday. Rain starting Friday morning looks like the best bet at this point. This should limit the potential for strong storms, but we may still have some scattered thunderstorms on the leading edge of this rain.
Also, this system will lose a lot of it's strength as it moves through the Tennessee Valley on Thursday and Thursday night. As it loses steam, that may limit the amount of rain that falls around here on Friday.
Weekend Looking Great: After the rain moves out, we'll notice sunshine settling back in for both days this weekend. Afternoon highs will reach the 60s with lows cooling into the 40s.
__________________________________________________________________________