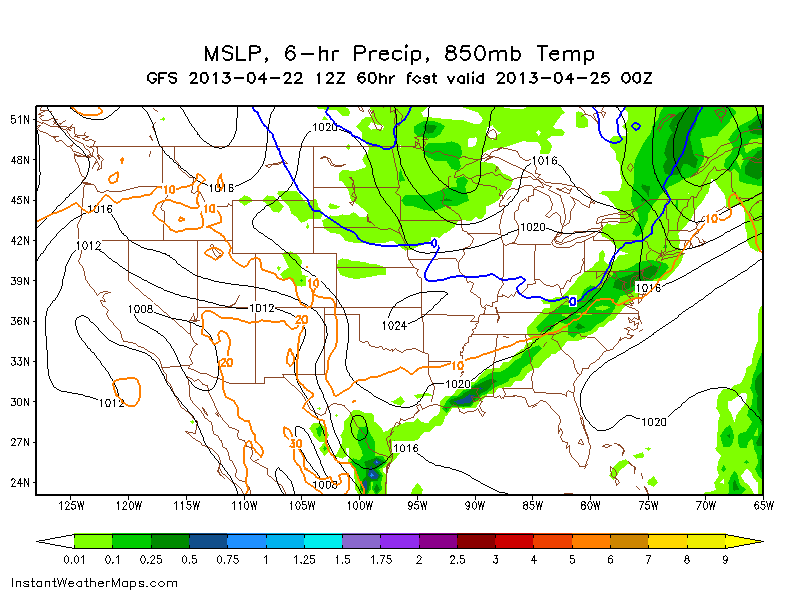 the map above shows a projection of accumulated rain between the hours of 2pm and 8pm Wednesday
60s, 70s Common... 80s Absent: More often than not, the Upstate and even portions of Western NC deals with a warm string of days or warm spell of at least five to seven days in mid-late April. We all remember last spring when it didn't even take the calendar switching to April before the widespread, sustained 80s rolled in here. This year has been different. We've certainly seen more cool air than warm in the months of March and April, especially in March.
It looks as if temperatures will stay below 80° this week as well. It looks as if we'll wait until next month (May) before the dam of hot air breaks and pours in to settle across the Western Carolinas. We all know it's coming sooner than later!
More Sun Tuesday: We're stuck in between rain systems tomorrow and that will be a good place to be. More sun will shine down along with a few clouds, especially late in the day. Highs will climb into the upper 60s and low 70s for Upstate towns with middle 60s across Western NC.
Wednesday Mainly Dry - Next System: The next rain-maker is looking less and less impressive as we draw closer. Much of the upper-level energy needed to produce rain around here will miss us off to the north. We'll be left with a mostly dry day Wednesday as clouds increase all day. Due to weakening upper energy, the cool front associated with this system should remain very weak and that will help reduce the chance for widespread rain.

At this point, keeping a chance of rain in the forecast for late Wednesday is the right call although I wouldn't be surprised to see a good portion of the area staying completely dry until a few, spotty rain showers move in overnight and early Thursday. We'll keep you updated as we move into Tuesday and Wednesday.
__________________________________________________________________________