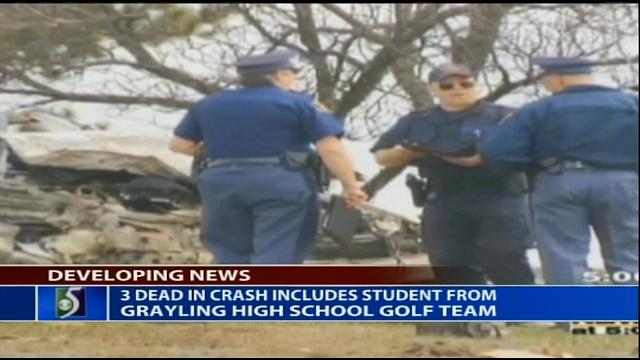 A high school golfer remains in critical condition in northern Michigan while authorities investigated a crash that killed three people, including a teammate and their coach.
Members of the Grayling High School golf team were traveling to a tournament Monday when their northbound van struck an eastbound van in Kalkaska County, about 25 miles east of Traverse City.
Killed were 18-year-old Louis Menard, golf coach Jason Potter and Cassandra Stapleton, a passenger in the other van.
Tyler Summers was in critical condition Tuesday at Munson Medical Center. Teammates Jacob Hinkle and Dallas Johnson are in serious condition, while Mason Krey and Gunner Metzer are in fair condition.
The driver of the other van was Rhonda Mitchell and is in fair condition. Her 3-year-old granddaughter also is in fair condition.
Jason Potter was the golf coach at Grayling High School. Menard was a student golfer on the Grayling high school team.
Authorities stated Monday that one of the minivan appears to have run a stop sign.
Copyright 2013 Associated Press. All rights reserved.