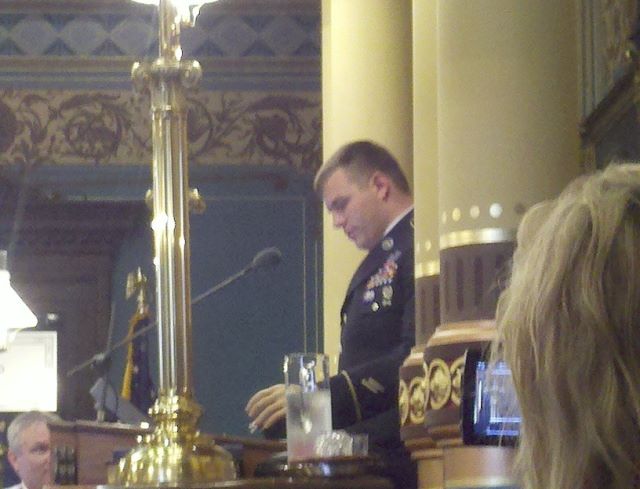 Army Sgt. Travis Mills addressing lawmakers in Lansing on Thursday.
The state Senate is honoring nine Michigan residents who died while serving in the armed forces over the last year.
The Senate held the 19th annual Memorial Service in Lansing on Thursday.
Army Staff Sgt. Travis Mills was the keynote speaker. The Vassar native was wounded when he dropped a bag on an improvised explosive device in April 2012 during his third deployment. He's one of only a few servicemen to lose four limbs in combat during the Iraq and Afghanistan wars and survive.
Mills recalled a few of his friends who died during his tours. Despite his injuries, Mills says he can now walk everywhere and feed himself. WNEM TV5 spoke with Mills on Wednesday -- watch our raw video interview with him above.
The Senators representing the districts of the nine fallen service members placed an American flag in a basket in their honor.
Copyright 2013 Associated Press. All rights reserved.