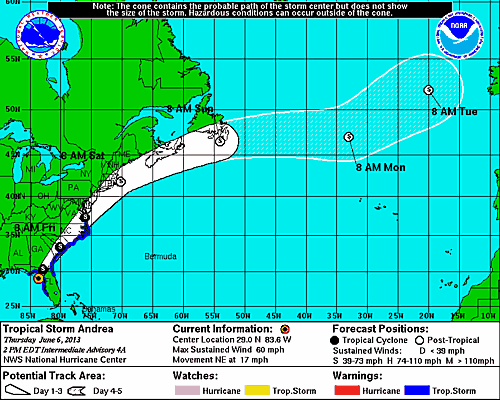 Andrea's track from NHC
It's great to be back at Fox Carolina, and I'm glad that I have some very interesting weather to forecast and blog about! We have a very wet night in store, as the rain shield associated with Tropical Storm Andrea is approaching and a front is pushing in. Expect rain to pick up from south to north today through the late afternoon and evening. The heaviest amounts will fall east of I77, but the Upstate still stands to get 1-2+ inches of rain on top of what we have already received. That's why a flash flood watch has been issued outside the mountains through late day Friday.
Severe weather threat is minimal because the atmosphere is so saturated! In this situations we worry more about flooding and torrential downpours making travel dangerous and threatening low lying areas. Expect the heaviest of the rain to fall late tonight and into the morning hours, then it should taper off as the front swings through and Andrea moves up the coast. She should be churning along the Carolina coast through Friday morning, then will head to the northeast for Saturday.
Thanks to all of you who sent me your sweet comments. They have all meant so much to me. Life with Stella is great, and I'm excited to get into the routine of working and taking care of her. WHile I'm at work she'll spend a little time at daycare, then lots of time with her daddy in the evenings. I'll get time with her in the morning, and of course those late night feedings LOL!