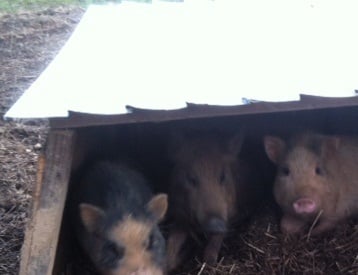 From Happy Hooves
These little piggies, along with the rest of us, are a little tired of seeking shelter from all the rain, lightning and gusty winds! The good news is... we can enjoy a little less storminess through the rest of this week and into the weekend!
For the rest of the week we will be in a pretty nondescript weather pattern, meaning that we won't have a strong high or low pressure impacting us. Therefore, it won't be completely sunny, but we shouldn't have widespread t-storms. Each day we'll have the opportunity for a few diurnal (daytime heat driven) t-storms, but most areas will stay dry. We'll keep rain chances at 20-30% through Sunday.
Next week we'll get a bit hotter as an upper ridge builds in. Thanks to all of you who sent storms pics and video! It really helped us on Monday and Tuesday while covering storms!