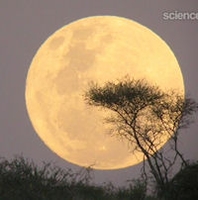 From NASA Science
We have the largest full moon of the year coming this Sunday morning! It will be about 14% bigger than normal, so it won't be noticeably bigger, but you'll KNOW it's bigger since you read this blog! Around 7:30AM will be the best time to view it. We will have some clouds around, but you should still be able to see it! Post your moon pics on our Fox Carolina News facebook page and some of them will be featured on the news!

The clouds will be from an upper level disturbance and some Atlantic moisture. Those 2 elements will come together to bring a few showers and storms Saturday, and the best chance of rain on Sunday. Clouds will increase Saturday as a sea breeze front develops and moves inland from the Carolina coast. Clouds will thicken and keep temps capped in the low to mid 80s for most spots. A few showers and isolated t-storms will be around late Saturday into the evening. Severe threat is low, but a couple strong storms can't be ruled out.
Same scenario Sunday, except I think rain coverage will be a bit higher. I'm going 30% for Saturday and 40-50% for Sunday.
Hope you have a great first weekend of summer!