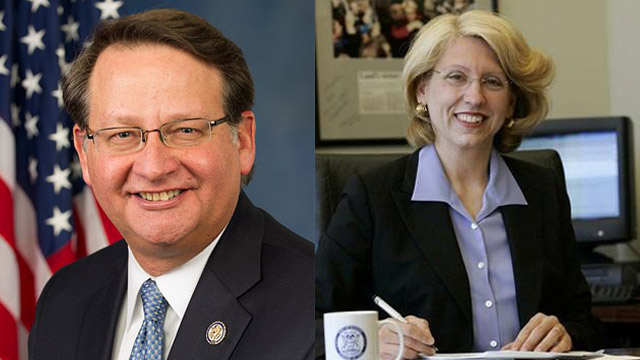 LANSING, MI (WNEM/AP) -
Former Secretary of State Terri Lynn Land says she's filed the paperwork to enter the Republican U.S. Senate primary, while Democratic U.S. Rep. Gary Peters says he's got $1.8 million on hand for his race.
Land announced plans to run June 3 and said Monday that she's followed up with a filing. She says she'll spend the next several months listening to voters across Michigan and says the public deserves "a lot better from Washington."
Land and Peters are seeking to replace veteran Democratic U.S. Sen. Carl Levin, who says he won't seek re-election in 2014.
Peters announced Monday that his campaign has raised $1 million since he entered the race May 1 and says he now has $1.8 million on hand for the race.
Land said in a news release Monday that, "We're now in the middle of the longest stretch of 7.5% plus unemployment since 1948. Our country just isn't creating jobs the way it used to, and certainly not the way it needs to."
She continued, stating "We can turn this country around by implementing efficient and effective government. We can cut government spending and needless regulations. We can repeal Obamacare and replace it with a free market solution. And we can reform the IRS so that no American worries about being unfairly targeted by their government. These actions will spur economic growth, lead to job creation across America, and put our country back on track to being one where our children and grandchildren are confident in their futures."

"I'm ready for the challenge, and I think you are, too," said Land.
Copyright 2013 WNEM (Meredith Corporation). All rights reserved. The Associated Press contributed to this report.