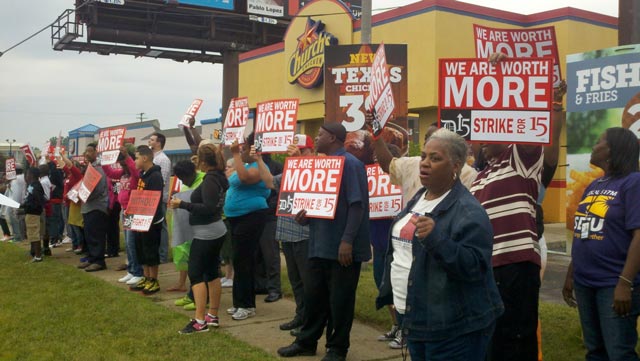 Protestors in Flint on Wednesday.
FLINT, MI (AP) -
Some fast food restaurant workers have walked off the job in the Detroit and Flint areas as part of an effort to push for higher wages.
Organizers say they began the walkout at restaurants in Lincoln Park and Southfield on Tuesday night.
Workers in Flint hit the street Wednesday outside a McDonald's, saying they want wages "super-sized."
A rally was also scheduled to be held the K-Mart location at 3043 South Dort Highway at 10 a.m. Wednesday.
Workers want $15 and hour, better working conditions and the right to unionize. The restaurant industry says higher wages would hurt job creation.
The actions follow strikes this week in other parts of the country.
This isn't the first such strike in Michigan. Some workers at about 50 fast food restaurants in the Detroit area walked off their jobs in May as part of the effort.
This also isn't the only protest of minimum wages taking place in Michigan. Good Jobs Now Detroit is organizing a texting campaign to help to fight for higher earnings. The group will also hold a rally in Royal Oak on August 6 and will urge people to sign a petition to send to President Obama for nuclear disarmament.
Copyright 2013 Associated Press. All rights reserved.