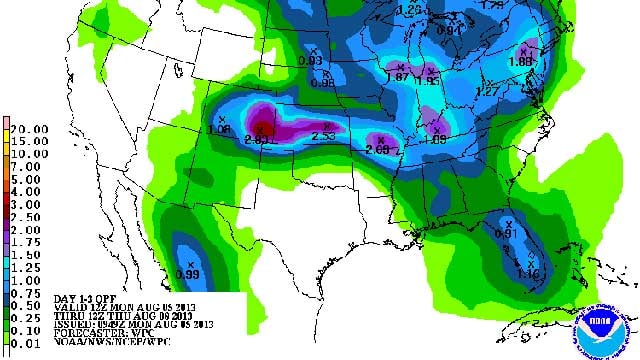 Estimated rain for next 3 days. (Source: HPC)
GREENVILLE, SC (FOX Carolina) -
The title of this post is probably not what you want to hear. But, we'll continue our already active summer into this first full week of August.
A front will rise north through tomorrow, and help to keep conditions unsettled across much of the southeast. A disturbance rolls in Wednesday and goes into Thursday to bring an even better shot at rain.
Here's what I'm thinking for rain chances:
Tues: 40%
Wed: 60%
Thurs: 60%
Fri: 40%
Storms that develop will have a lot of moisture to tap into, so we could be looking at some prolonged heavy downpours and localized flooding.
The good news is that we had some time to dry out, so our ground isn't quiet as saturated as a couple weeks ago!
Severe weather threat won't be high on any of the days this week, but isolated strong storms will be possible with damaging wind and hail.
Heavy rain and lightning will be the primary issues throughout the week in the Upstate.
Copyright 2013 FOX Carolina (Meredith Corporation). All rights reserved.