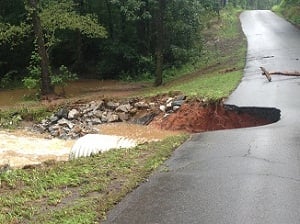 From Central, Todd's Creek Rd.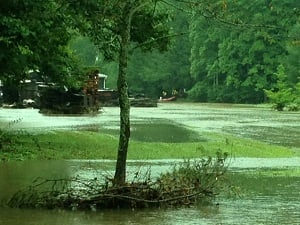 From western North Carolina
We have seen over 6 inches of rain in parts of Pickens and Oconee counties since yesterday! This has caused some major flooding, and now that rain is affecting Henderson county, causing flooding there. Andy Wood is there now and will bring us reports tonight @ 10.
As for the rest of today, we expect rain to thin out a bit, but pockets of heavy rain could continue to cause flooding concerns this evening and overnight. Severe weather threat isn't high, but a couple strong storms will be possible south of I85.
Thursday and Friday we'll have similar weather to today, where we'll get some morning showers that could blossom into heavier storms by midday as they tap into some heating (instability) and ample moisture. The mugginess is just ridiculous, and will stay around through the week. A front moves in the weekend, and that will keep afternoon storms in the forecast, but then hopefully help us dry out some by next week.