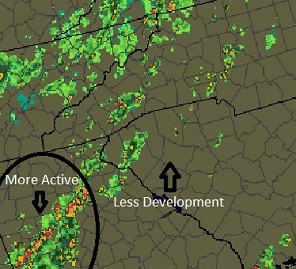 So far today, heavy rain has been mostly concentrated in portions of northern and northeastern Georgia. That's where some flash flooding has already taken place and continues to happen near the Atlanta area.
Around here, scattered rain have been impacting areas like Transylvania, Jackson, Henderson and also Anderson, Oconee and Pickens counties.

2pm Radar Update: Heavy rain remains mostly concentrated over into Georgia. In those places, humidity is a bit higher providing a bit more fuel for weak, upper-level winds to trigger downpours.
I've spotlighted two areas on the radar image to the right. The area circled is the most likely place where more widespread rain will develop this afternoon. The Upstate, NE Georgia and Western NC could also get in on some organized downpours, but the activity should stay more spotty than areas west of here.
There will continue be a risk of flash flooding for all of the Western Carolinas. Because of this, a Flash Flood Watch is in effect until 6am tomorrow (Friday).
____________________________________________________________________________