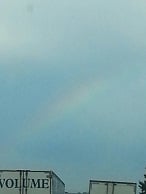 Rainbow from MaryAnne
A rain poem....

The rain has been torrential this summer
For outdoor plans it's been a bummer
Almost like Seattle weather it might seem
All thanks to a dip in the jet stream

Silver lining is that it hasn't been so hot
And it just gets cooler, believe it or not!
Highs in the 70s by Thursday
And our severe weather threat should go away

So, I know you are sick of hearing about rain
And forecasting it has been kind of a pain...
But at least our sprinklers are getting a break
And pretty soon we'll all have leaves to rake...

This poem may get a lot of boo's
So I'll stop, and get ready for the 10 O'Clock News
More rain is in the forecast
Tonight I'll show you how long it could last!