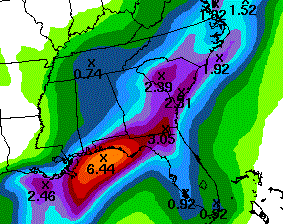 Cool Conditions Continue: I would call it a "break from the heat." But, where has the heat been this summer?!

Yet another abnormal weather pattern is locked in over the Upstate, Northeast GA and Western NC. This weekend will offer more cool temperatures as highs range between 66° and 75° for Upstate towns through Sunday. In Western NC, expect 50s in the morning and 60s in the afternoons.
Rain at Times: Just as Kendra has mentioned in recent days, rain will come down occasionally through Sunday. The heaviest rain will fall today and Saturday with somewhere between 0.75" and 2" for most towns.
Flash flooding is possible, but unlikely due since the cool temperatures will be unsupportive of any tropical downpours or slow-moving thunderstorms. Still, I wouldn't rule out the chance of a flash flood watch being issued.
______________________________________________________________________________