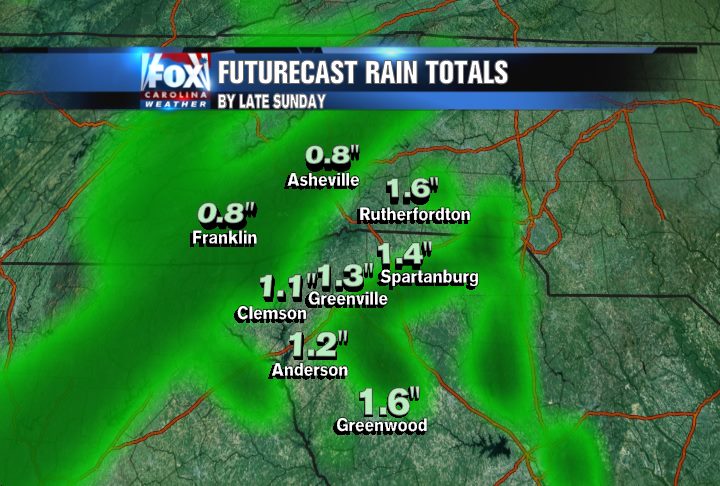 A soaker of a weekend in store, as our weather feels more like the Pacific Northwest than the Carolinas! The good news is that we aren't looking at prolonged, widespread and heavy rain.
We'll get some prolonged lighter rain and some pockets of heavy rain, but it doesn't look like enough to pose a major flood threat.
That being said, localized flooding will be possible, especially south of I-85 where the heaviest amounts are expected. First let's talk timing, then amounts!
TIMING: I think our 2 best chances for rain will come late tonight into early Saturday, then again late Saturday night into Sunday morning. We'll have off and on showers both Saturday and Sunday afternoons though.
AMOUNTS: 1-2 inches of rain will be common for most spots, but southern Upstate and northeast GA spots like Greenwood, Abbeville, Laurens and Elberton could get close to 3 inches if heavy rain sets up long enough.
The cool air sticks around. We will get a tiny bit warmer each day, with highs in the low 70s Saturday, then upper 70s Sunday (still cooler than normal for this time of year). By Monday we are back in the 80s with PM showers possible, but a drier forecast will be in place.
Copyright 2013 FOX Carolina (Meredith Corporation). All rights reserved.