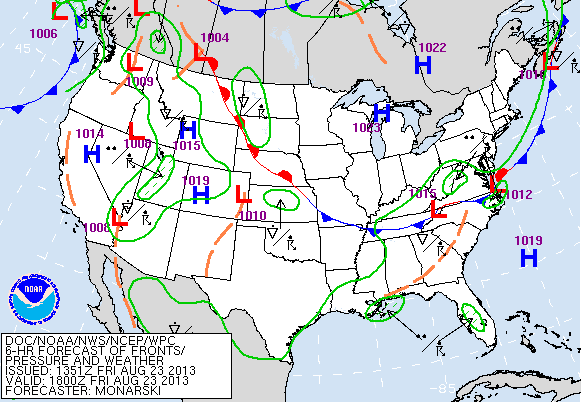 Well, folks, this might do it for the rain. A cold front is approaching our area from the north today, and will usher in some building clouds and scattered storms as the day moves forward. Expect a nice day overall, and SOME will get away without seeing any rain. Those who do, however, could see downpours and briefly strong thunderstorms. Tonight is the first night of High School Football, and our Friday Night Blitz show (starting at 10:30pm!) and we're hoping to get most of the games going without a delay. However, there is still going to be a chance for a pop up storm this evening, so have a rain plan if you head out to a game. Rain chances dwindle as the evening goes on though, so there's some good news there.
Once this front passes, we're going to have cooler, drier air ushered in. Starting Saturday, we're back into the upper 70s in the mountains, and middle 80s in the Upstate. While a quick lingering storm is possible, the general population will see partly cloudy to mostly sunny skies, and a LOT less humidity. Sunday continues in this trend, with a dry forecast, mostly sunny skies, and comfortable temperatures in the upper 70s to low 80s.
High pressure will continue to build into our area through the start of the work week, so we should stay dry Monday and Tuesday, and possibly into Wednesday as well. However, with each day's high pressure, the heat and humidity will start to build again. Staying comfortably in the low 80s early week, we're back to the upper 80s and some humidity by Wednesday/Thursday, therefore increasing our chances for some pop up afternoon storms once again. A series of cold fronts is also expected to approach our area late-week, so expect more unsettled weather to stick around for a few days.