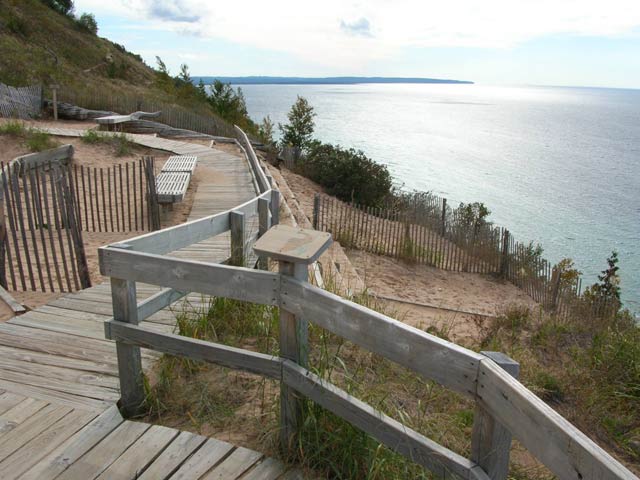 Sleeping Bear Dunes in Empire, MI.
GLEN HAVEN, MI (AP) -
Police have released the name of a man charged with domestic violence who was the subject of a 12-hour manhunt at Sleeping Bear Dunes National Lakeshore in northern Michigan.
Emmet County Sheriff Peter Wallin says Daniel Gerard Elliott of Orchard Lake is jailed on $10,000 cash bond on the misdemeanor charge that was authorized by a county prosecutor in a warrant.
Elliott is scheduled for arraignment Wednesday.
Wallin says Elliott and his wife had a physical confrontation Sunday and she was left on the side of a road near Petoskey, where she called police.
Elliott then drove about 90 miles south to the lakeshore, where he and the couple's three children spent the night in the woods. Searchers found them Monday night.
Authorities said the children were hungry and thirsty but otherwise OK.
Elliot, from the Detroit suburb of Walled Lake, was the subject of a massive search after an empty car he'd been driving was discovered near a museum at the lakeshore.
He was with his 14- and 10-year-old daughters and his 9-year-old son.
The man was visiting with relatives in northern Michigan when he got into a conflict with his wife Sunday. She filed a complaint, leading to a misdemeanor warrant.
Copyright 2013 Associated Press. All rights reserved.