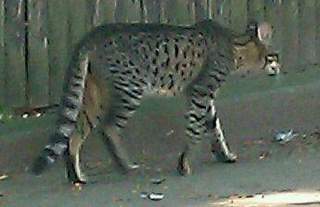 Photo courtesy WXYT
DETROIT (AP) -
Animal rescuers say a big cat that has been roaming Detroit's northeast side has been killed.
The Detroit Free Press reports that the 25-pound Savannah cat was found in a trash can Monday evening. Laura Wilhelm-Bruzek of Paws for the Cause feral cat rescue says a resident shot the cat days ago.
She says the cat had escaped about a month ago from a nearby home, and the owners were devastated to hear about the death of their cat named Chum.
A Savannah is a hybrid domestic house cat and African serval cat. They have long legs and spots like a small leopard, and are sold for thousands of dollars.
Copyright 2013 Associated Press. All rights reserved.