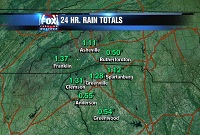 Some fairly decent rain totals around the 85 corridor! Over an inch for Greenville, Spartanburg and Clemson today.

We'll continue to see light rain showers through this evening and the early overnight hours, but after midnight we'll be left with patchy fog and clouds. So, we could have areas of reduced visibility for the morning commute on Thursday.
Through Thursday we will slowly clear. It's all as high pressure builds in from the north. This high pressure will bring in some classic fall air to the Carolinas and Georgia for Friday through the weekend! Highs are typically around 80 this time of year in the Upstate, and we'll get upper 70s to around 80 for Friday-Sunday.
A front will push through this weekend, and that will bring some clouds, and potentially a few mountain showers. All in all, the weekend looks really nice. Our nights will cool nicely into the 50s Friday night and for several nights onward.