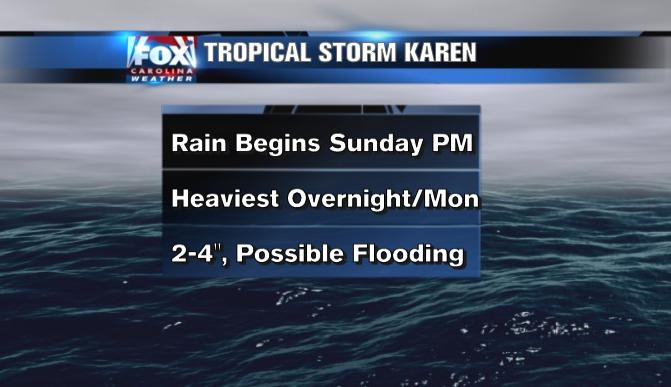 Typically on a Friday, no one even wants to think about the end of the weekend. But, with Tropical Storm Karen churning in the Gulf of Mexico this morning, Sunday afternoon is on the minds of many. That's when we are expecting to see the onset of rain in the Upstate, NE Georgia and Western NC. Though it should start out as spotty, scattered rain, thunderstorms and downpours will move in as the evening progresses. Right now, with Karen's track showing landfall near Pensacola, FL, we're expecting the heaviest rain for our area to move in overnight Sunday into Monday, and last through the morning commute. As Monday wears on, rain will continue, but with Karen weakening over land we'll see some lightening of the rain by late Monday. The National Weather Service checked out some past storms with a similar path through our area, and says nearly 5" of rain fell in past events. With this storm, most of the models are forecasting around 2-4" of rain for us in the western Carolinas. What could end up being a lucky break for us is a cold front off to our west. It's slowly moving toward us and should arrive shortly after Karen moves in. If the cold front helps to push Karen to our east quickly, we'll see rain totals on the lower end of the spectrum. If the storms "combine" and slow down, obviously rain totals would be higher. We're monitoring it all very closely and will continue to update you on air and online.
In other news...here's a better look at the times you can actually enjoy being outside this weekend!

Today: mostly sunny to partly cloudy, highs in the low to mid 80s. Friday night football is a "GO" with no rain expected.
Saturday: partly cloudy, warm in the low to mid 80s. Overnight expect a few more clouds to build in.
Sunday: starting dry with mostly cloudy skies, highs in the mid to upper 70s. Rain moves in after noon.