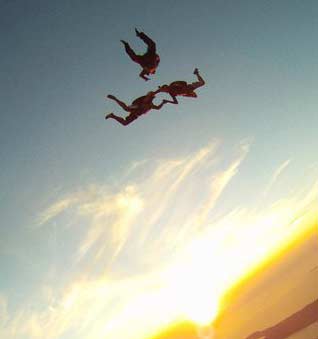 People skydiving
A 34-year-old sky-diving instructor has died at a Macomb County air field after he fell and struck a woman on the ground during a high-speed maneuver.
State police Lt. Michael Shaw says the accident happened about 6:20 p.m. Saturday at the Ray Township Airport, which is about 30 miles north-northeast of Detroit.
He identifies the sky diver as Kenneth R. Bernek of Waterford.
Shaw says Bernek "started falling out of control, struck a tree then collided into a person standing on the ground." He says Bernek hit a 53-year-old Ray Township woman who was treated for non-life threatening injuries.
Midwest Freefall Sport Parachute Club manager Randy Allison tells The Macomb Daily that Bernek was a 15-year sky-diving veteran and was practicing a "swooping" maneuver that involves flying horizontally before landing.
Copyright 2013 Associated Press. All rights reserved.