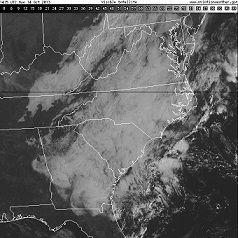 It's not a "picture-perfect" Monday, but it's not the worst start to the week either. Mostly cloudy skies hang low today, with pockets of drizzle possible through the morning, especially in the mountains. A few peeks of sunshine this afternoon will help temperatures boost into the low to mid 70s, though a strong breeze from the northeast will keep us feeling comfortable. Overnight, expect a mix of clear sky and clouds, with lows in the mid to upper 50s.
Tuesday should be somewhat sunnier, with a mix of sun and clouds, and highs back into the low-mid 70s. Overnight, an approaching cold front will build in more clouds, with lows in the mid to upper 50s.
Wednesday and Thursday we'll have a few scattered showers and a possible thunderstorm as a cold front moves through our region. It won't rain all day, but having an umbrella will prove handy on and off. Highs will hold off in the upper 60s to low 70s both days.
Once that front passes, we're back to sunshine and average temperatures. Daytime highs in the low 70s Upstate, upper 60s in Western NC, with overnight lows to everyone in the 40s and 50s.