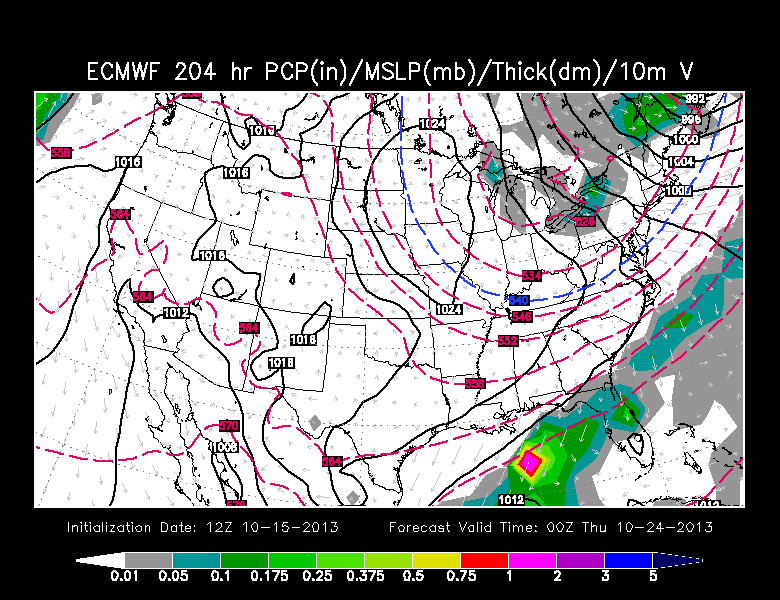 European model for next Wednesday
I bet many of you are sick of the clouds, but frankly they do keep it feeling pretty good outside! The clouds will hang around through tonight and tomorrow as a front approaches. I think we'll see some breaks in the clouds Wednesday, then showers will arrive late Wednesday night for the mountains. The front will arrive late Thursday and that will help to push some rain into Upstate and northeast GA spots. With the front, we'll have some strong dynamics in play, which could lead to a couple of t-storms. Damaging winds could occur with storms that develop during the peak heat of the day on Thursday. We'll monitor that threat closely.
By Friday we'll clear out and get sunshine and cooler air! Lows in the Upstate will drop to around 50 by Friday night, and highs will be in the low 70s with sunshine! Clouds will try to push back in as a wave develops along the front to our south. And because it's to our south, the southern half of our area will stand the best chance of a few light rain showers on Saturday night into Sunday.
We should see a few quiet days early next week, then some cooler air will start to dive south! Notice the image I attached to this post. The blue dashed line is the 540 thickness line, which is one of the parameters we watch for SNOW. If we see moisture along with that kind of cool air, we start to think winter weather! This time there isn't any snow with it, but just notice how close that cool air is getting to us! This could mean highs in the 50s and lows down in the 30s for the mountains and low 40s possibly in the Upstate. Definitely the chilliest air of the season! We'll see if that pans out. I figured I needed to embrace my inner-Andy Wood and look into the future a bit for signs of colder weather. We miss him a lot!