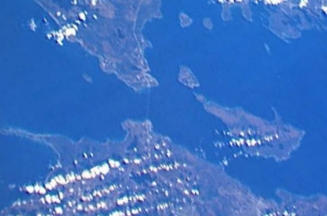 Bois Blanc Island is the largest island on the right -- image courtesy of Wikipedia.
More than 100 parcels of state-owned land are for sale on Bois Blanc Island in Lake Huron.
The Michigan Department of Natural Resources is conducting a sealed-bid auction, which began Wednesday and continues through Nov. 20.
Bois Blanc Island is about 12 miles long and 6 miles wide, with seven named inland lakes. It's 2.5 miles southeast of Mackinac Island and 5.5 miles north of the city of Cheboygan.
The island is accessible by ferry and airplane charter. It's a township in Mackinac County.
Parcels vary in character and size. Many are platted lots in subdivisions with undeveloped roads.
Bids must be postmarked by midnight Nov. 20 and will be opened Dec. 11.
Details about each property are available at the DNR's website.
------