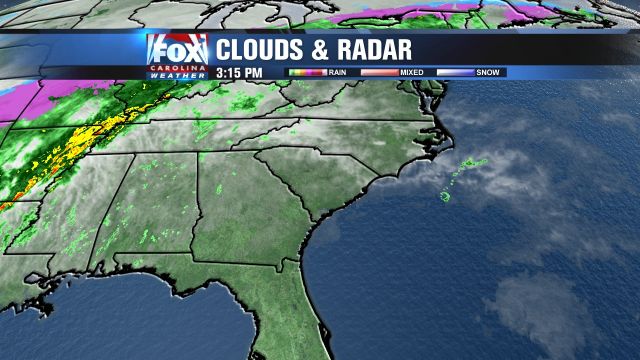 GREENVILLE, SC (FOX Carolina) -
When you think of winter cold and icy usually comes to mind. In our case, we start things off warm and wet. Temperatures soar well above average this afternoon and even broke a few records in some places. This southern flow will continue on Sunday and keep temperatures above average to end off the weekend.
Rain and thunderstorms will move in from the west in front of a slow moving cold front. This will be associated with the same string of storms that have spawned severe thunderstorm warnings and tornado warnings from Louisiana all the way up to Illinois. Luckily for us we won't see the same severity as the Gulf region but we will be in store for quite a bit of rain.
The low pressure system quickly advancing to the NNE which will cause the front to move slowly to the east. The cold front will slowly move across the Mountains and the Upstate on late Sunday and Monday. Behind that front we'll see cooler air break in and high pressure builds from the NW
Temperatures will level off in the mid-40s for the middle portion of the week giving us a cool and sunny Christmas. Skies look to remain clear until next week.