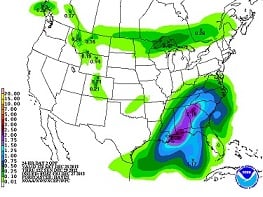 We've had gorgeous, seasonably cool weather through the holiday, and now as we approach the last weekend of 2013, the pattern begins to shift. Today, high pressure sits in place, and should slowly push northeastward into Virginia by late day. We can expect sunny skies, with highs reaching the low to mid-50s area-wide. Wind will be from the NNE between 3-7mph. Overnight, a few clouds move in, but still dry and cool in the mid-20s to low-30s.
As high pressure exits our region on Saturday, clouds move in from the south. The daytime hours should remain dry with highs reaching the low to mid-50s, but as clouds increase, rain showers begin around the dinner hour starting in our southern counties and working their way north.
A low pressure system and associated warm front will push Gulf moisture into the Western Carolinas late Saturday night and through Sunday morning. When all is said and done, we could end up with 1-2" of rainfall, most of which will fall in the early hours of Sunday. Throughout the day Sunday, we'll continue to see clouds and a few scattered showers, but most of the rain should exit our area by mid-afternoon.
Monday and Tuesday, the last days of 2013, we're expecting clouds to move out, and temperatures to cool back into the 50s and 40s. Clear skies New Years Eve will bring temperatures into the 20s as the ball drops. Have a great weekend!