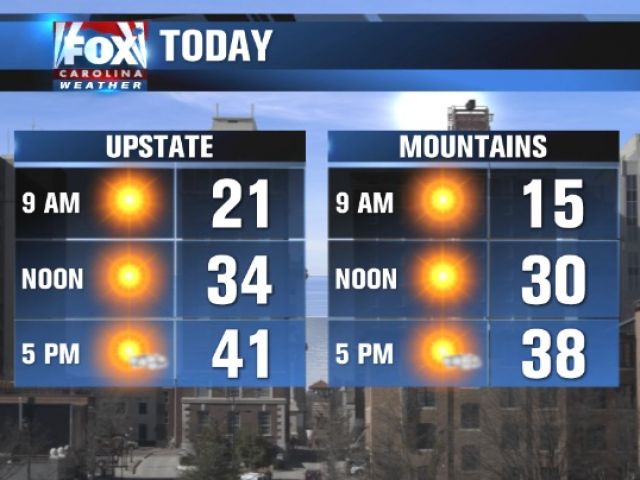 While we're not looking to be above average until the weekend, our newest weather trend has our bitter arctic air moving out, and milder air moving in. This morning was the last of the single digits and teens, and even now as we head toward noon temperatures are steadily rising into the 20s and 30s. This afternoon, expect plenty of sunshine, light wind, and highs to break the freezing mark and get into the upper 30s and low 40s.
Overnight, partial cloud cover moves in and will help to keep low temperatures slightly more mild. While it will still be cold in the low to mid-20s, the wind should stay light.
Thursday we'll see partly cloudy skies and highs in the low 40s area-wide. Late Thursday night a slight chance for a passing shower pushes through the Upstate, though temperatures should generally remain in the mid-30s. An isolated pocket of freezing rain will be possible in the high elevations, though it wouldn't be much and issues should be minimal.
Friday brings mostly cloudy skies for all, and an even warmer day in the upper 40s and low 50s. We'll see a few scattered rain showers throughout the day, but most of the day should still remain dry. Saturday brings our next chance to see more significant rainfall, especially in the afternoon.